Talented DJ and producer VCTRE gave us a look at his backstory, upcoming chill sets, music scene experience, and more!
---
Alabama-based artist Aaron Poughmore commonly called VTRE, captures the ears of many with the unique style it brings to turntables. From his authentic personality to his punchy beats, it's easy to see why so many people join the VCTRE fan club. Fans love getting lost in his guttural bass and exquisite musical taste, and with tracks like "Try to feel" and "die happy,can you blame them for being obsessed? His frequencies are truly covet-worthy, and luckily for us, his discography keeps growing with no signs of stopping.
VCTRE's journey began with his first romantic encounter in this field of music, dubstep and artists like Coki and Skream. With a passion in his heart continuing to grow throughout high school and college, he began going to festivals, which heightened his interest in finding artists that resonated with him. All the little puzzle pieces that came together over the years ultimately created one of the most creative and talented artists in the underground music scene.
In 2022, VCTRE has already impressed with several sets, including Sonic Bloom, Electro Bigfoot, DEFand in every state with his headlining tour with summin summin. As he continues his streak of appearances this year, we had the opportunity to catch up with him and ask his brains out on everything from his roots to his upcoming chill sets. Read on for the conversation and find out what one of the fantastic artists making big waves in underground bass had to say – and don't forget to subscribe to his Bandcamp for special tracks.
Stream VCTRE discography on Spotify:
---
Hi Aaron, thank you so much for chatting with me today. You've had quite a few shows over the past month. What's it like to get back on the road and play festivals like Sonic Bloom, Bigfoot Electro and Kosmic Kingdom?
These three festivals were such a great time and went extremely well. I started at Bigfoot with Carl [Black Carl!]and we did our To integrate Position. We played at 2am, and it was an atmosphere. The field was foggy and it was terribly cold outside, which is abnormal for summer in Tennessee. Nevertheless, it was an amazing and well run evening for a young festival.
Cosmic [Kingdom] was a hot and sweaty day of fun. I followed the friend Not Lo, which crushed it, for a 6 p.m. time slot. I literally played on a castle with a full Hennessy rig; where else can you do this. [Laughs] myself and the His Termion The team also played a late night set at this house on the fairgrounds where we got to play some stuff that we don't normally do.
Can you share what you think of Sonic Bloom and what your experience has been like this year?
I arrived at Bloom Saturday from New Orleans and was immediately thrilled to be there. I've wanted to play this festival for years, so it was super exciting when the offer came, especially to play one as myself and one as Integrate. I played late Saturday night, technically Sunday at 3:15, which was exciting because I was the only sound man on stage. It was cool to know that I would at least have a decent crowd at my set.
The set went well and the energy was great; it was one of those where everything went well. I even misread my playing time and quit 15 minutes early. The stage manager said, "Man, you have 15 minutes left," so I frantically plugged my USB drive back in and started playing again. Looking back, it was a nice break because we got back on set like it never stopped, and people weren't leaving and just kept going down.
Sunday, Carl and I had a 9 p.m. set right after detox unit. We arrived at the pitch around 3 p.m. and immediately a huge storm rolled in, which lasted for hours. It wasn't just a normal thunderstorm, it was hurricane type winds. It was pretty wild and we were afraid our set would be cancelled.
After looking for shelter we finally got out and were able to play outside at 9pm. It was really fun, we were both on the same page and everything was going extremely well together. However, we both felt terrible for Detox Unit and droid because we know how much work they put into their set, and it eventually had to be canceled because the speakers on the stage were completely flooded and part of the visual wall was blown away.
Overall the festival was great. All the art installations were beautiful and the sound was on point, just what I love to see at festivals. I hope to return in the years to come.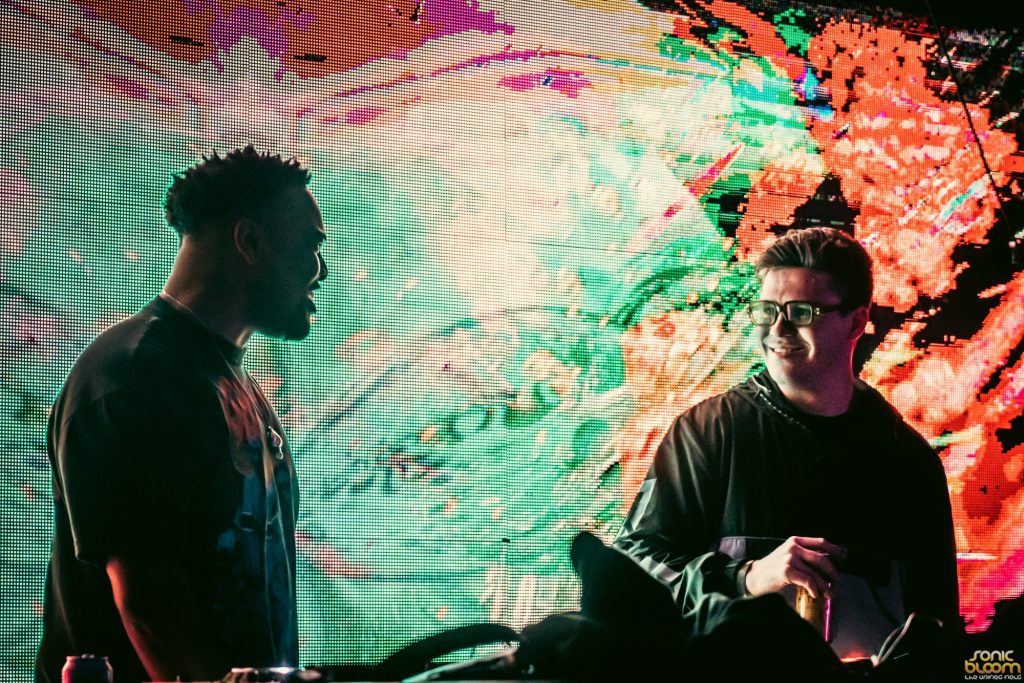 You'll be playing relaxing sets in Solasta and Submersion towards the end of your tour this year. What led you to play these sets? Was there a particular inspiration?
I've been doing more relaxing music in the last two years than I'm a bit afraid to play during my regular sets because I think people expect to hear a specific sound from me. It shouldn't matter, but I let it get into my head and try to fit into a particular type of set. So these labeled cooling sets are very exciting to me because people know what they'll be getting, to some extent. They are definitely going to have some good surprises in certain types of songs that I will be playing and in the journey of the set from start to finish. I'll keep the elaboration there so people can still have surprises!
During this run you also released a fantastic track with Frij, "Fulcrum". Can you talk about the production process of this one? What brought you closer to Frij?
Friday is a fantastic producer that I found on SoundCloud. We started chatting there, and he pulled out a work-in-progress mix and had this little 16-bar loop that's finally the intro to our now-completed song. I messaged him and he sent me the project file. I worked on the song for a few days, finally got the lead back for the first and second drop, then sent it to him, where he finally bridged the rest of the song. It was such an easy process. I love doing collaborative work like this where there's no pressure, and we're both on the same page without the finished product. I'm super happy with how it went.
Let's get into your story a bit. Since you're from Alabama, what's the scene like there, and what led you to find a place in the dance music scene?
Lately, the dance music scene here has been kind of dead. We don't really have a main promoter anymore who organizes one-off tours or electronic shows. However, it was very lively during high school and my early years in college, so I started going to see shows here. I first fell in love with dubstep in 2010 with people like Coki and Shoutwith artists like pretty lights, Paper diamond, Bauerand all this wave of electronic music from 2012 to 2015.
It was fun, but I knew I wanted more sound, and I started going to festivals in the southeast, like Counterpoint, where I saw people for the first time like Tipper, Zed is dead, and other artists who have made a name for themselves. Since then it's been a fun journey exploring and finding new artists that I love.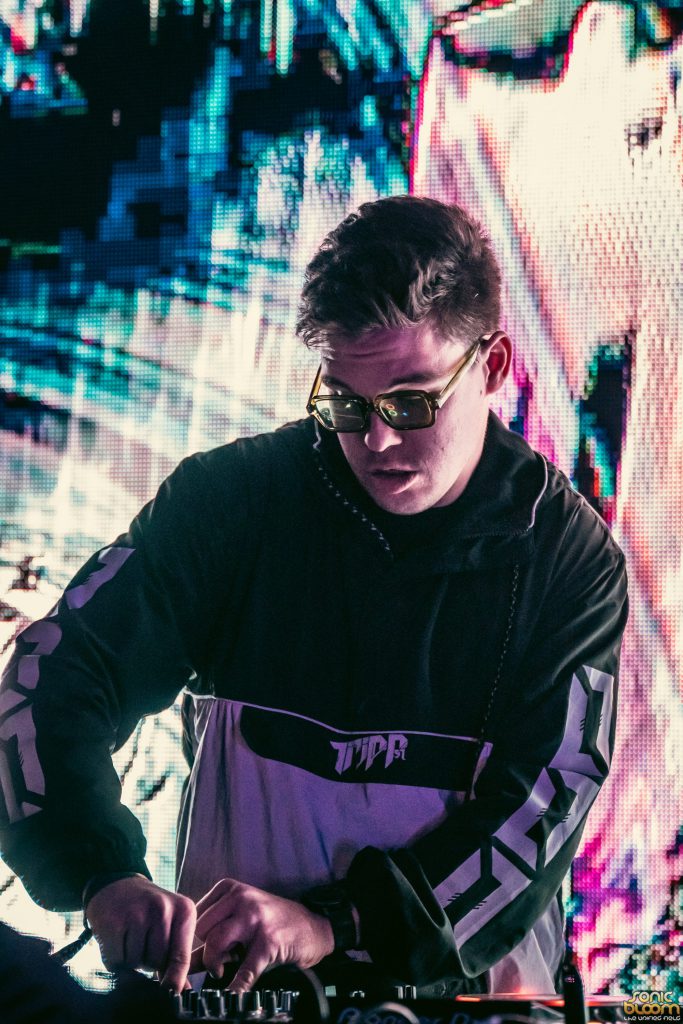 You briefly mentioned cerebral palsy on Mr. Bill's podcast a few years ago. To dig deeper, what difficulties have you overcome while producing and performing? Do you have any advice for anyone looking to pursue a music career with Cerebral Palsy?
I don't really find it difficult to produce. I'm sometimes limited on decks trying certain transitions, but I always find a way that mixes well despite only being able to use one hand. I don't think about it too much; however, if I let it be something that stops me or lets it make decisions for me, that's when it becomes a problem. But it all depends on my state of mind, so if someone else has it, don't let it paralyze you before I even start. People don't care that much, even though it might seem like it through your eyes. And if they do, fuck them! I sometimes meet arrogant people but I don't tell them the time of day.
To finish, just for fun, there is a lot of controversy over which is the best fast food burger chain. Answer this if you dare; What's your favorite channel to eat and what's your favorite order?
It's a tough question, but I think my answer is Zaxby's. It's also a Southeast-only chain, so I feel bad for anyone who hasn't tasted their delicious chicken. I think my go-to is either the Kickin' Chicken sandwich combo or the wings and traditional tongue torch things with a Cherry Coke and two extra ranch sauces.
---
Follow VCTRE on social media:
Facebook | Twitter | Instagram | SoundCloud